Zeolite-AV is a breakthrough formula that contains the highest quality of Clinoptilolite Zeolite, which is blended with a proprietary concentrated Humic acid to trap and remove heavy metals, toxins and free radicals from the body while boosting the immune system!
Humic acid which is organic and naturally extracted from humus in the earth's rich soils has been shown in independent studies to coat and isolate viruses before they can attach to a healthy cell and multiply, thereby allowing our immune cells (now optimized from the zeolite) to find and eradicate the virus.
Suggested Use: Take 2 capsules twice daily with water.
For other needs, take 4 capsules three times a day or as directed by your health practitioner.
Do not use for more than fourteen (14) consecutive days at a maximum dose of 4 capsules three times a day unless directed by your health practitioner.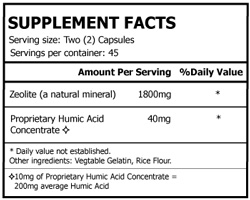 Other ingredients: Vegetable geletin, rice flour.
If you are pregnant, nursing, taking medication, or have a medical condition, consult your doctor before using this product. If you experience an adverse reaction from taking this product, discontinue use immediately.